Cosmic Jester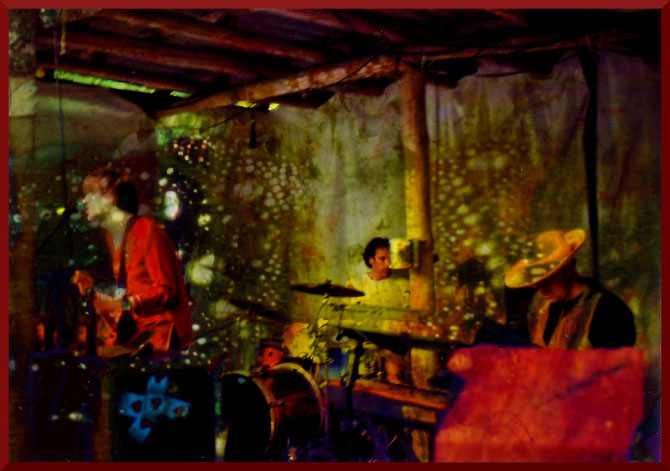 About the Band
Cosmic Jester are a psychedelic band, that was formed in 2015 about summer solstice by Lucifer Sam and Roboo at the Garage Pankow in Berlin. Lucifer had been working alone from 2009 as a multi-instrumentalist doing recording sessions and writing. He then joined the Garage Collective and allied with Rob there.
The two have recorded their first album 'Millennium Mushroom' in 2015 which had been released in march 2016. About the time of the album release, Grimbold joined on keys.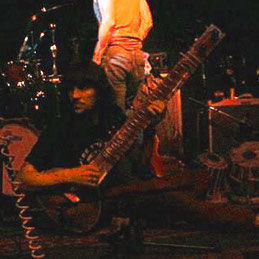 LuciFerSam
is a Baltic-Sea-originating guitarist, multi-instrumentalist living and working in Berlin.
Used instruments on recordings and live shows include: Guitar, Sitar, Organs, Drums, Vocals, miscellaneous Percussions and noise-sources, Trump, Blues-Harp, Bass, Flexatone and more.
Lucifer was inspired and influenced by old Psychedelic-, Kraut- and Garagerock bands like Frumpy or The Deviants and Noise- and Psych-Rock from the 90s.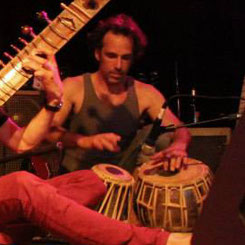 Roboo
is a drum-teacher and Jazz- and Rock-drummer also playing picking-guitar and several other instruments as Tablas, Metallophone, E-Cello and Percussions.
Rob originates from the United States, which politically are in a poor condition these days.
He worked with different bands like free jazz combo Peep; (Joy of Being) and for Movie-Soundtrack productions in New York and Berlin and is now part of a Flamenco group, a schottish pipe band, Rhythmuswerk and other projects.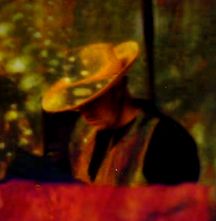 Grimbold
Also known as Dr. Grimbold, The Mad Scientist, he is a genius with keys no matter what colour.
He'd always been into the psychedelic and jam experience and gives the band all the bottom and space they need. Grimbold now operates all freaked-out sounds,
that our material and the digital world have created for us to listen to.
He joined the band in 2016 after the release of Millennium Mushroom.